[Part Four]
Winter Lunch
SUNDAY, FEBRUARY 9th at 1PM
BELLA LUNA FARMS in Snohomish
$125 per person / $30 per person for wine pairings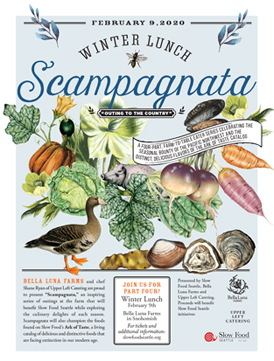 Join Bella Luna Farms and Upper Left Catering on February 9th for our Winter Scampagnata Lunch, the fourth and final installment in this year's inspiring series of outings here at the farm to benefit Slow Food Seattle.
Begin the lunch with Chef Shane Ryan's seasonally-inspired appetizers before touring the farm with owner Pam Thompson, and then gather in the vine laden Grapehouse for a multiple-course, family-style feast showcasing the authentic flavors of the Northwest. Lunch will highlight the unexpected bounty of the winter season, as well as Chef Shane's house-made charcuterie and traditional style pizza baked in Bella Luna's wood fired oven.
Help us support local growers and the real, true and authentic flavors of the Northwest by joining us for this delightful afternoon—or send a loved one in your stead!
Proceeds from the lunch and silent auction will benefit Slow Food Seattle initiatives, all of which support food that is grown or harvested by local people, as well as builds up our community, our farmers and our world through food that is good, clean and fair for all.
Don't miss out; get your tickets today!

Presented by Bella Luna Farms & Upper Left Catering